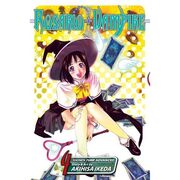 Manga Volume 04: Carnivorous Plants
Charcter Cover Featuring: Yukari Sendo
J - Volume 04 - ISBN 4-08-873869-1, Release date: 4 October 2005
E - Volume 04 - ISBN 978-1-4215-1906-7, Release date: 2 December 2008
Tsukune and the News Club girls go on a field trip to the human world, where they are dropped off at a sunflower field known as the Witch's Knoll. Yukari saves herself and two young women from attacking plant creatures. This offends the witch of the field, Lady Oyakata, who sends her ward Ruby Tojo to grab Yukari and lure her to their cause. Yukari, who does not like the human world, agrees, but when Tsukune, Moka and Kurumu arrive, Ruby attacks them, but is defeated by a transformed Tsukune. Ruby is shocked that she is nursed back to health by Tsukune and the girls; she retreats to the Knoll where Oyakata raises her plant army to destroy the humans. Tsukune and the girls try to stop them, at which Oyakata reveals the truth about the developers' plans for the field, which is to replace it with a garbage dump.
Community content is available under
CC-BY-SA
unless otherwise noted.