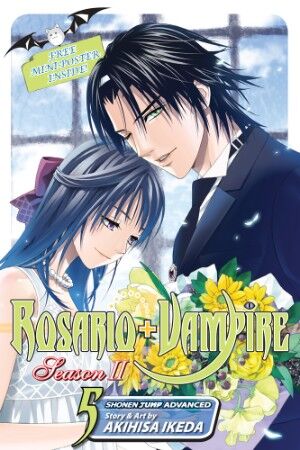 II Manga Volume 05: Siren Song
Character Cover Featuring: San Otonashi and Ginei Morioka.
J - Volume 05 - ISBN 978-4-08-874679-1, Release date: 2 October 2009
E - Volume 05 - ISBN 978-1-4215-3691-0 , Release date: 5 July 2011
When Tsukune's training with Moka seems to go nowhere, the Headmaster gives the News Club a summer break by sending them to the human world. Moka and a mute girl named San Otonashi are kidnapped by yakuza, but Tsukune defeats the mobsters by using his improved fighting abilities. San, a former News Club president, works at the hotel where they are staying. The hotel's other employee (who was secretly working for the kidnappers) is ordered to burn the hotel, but steals the owner's bankbook and cash instead and flees. The News Club girls use their swimsuits and feminine charms to draw new customers to raise money. Meanwhile, Gin confronts the thieving employee as he is being punished by Rokuro Tsubaki, a Fairy Tale recruiter, who stuns Gin with a recording of a siren song. The 7th branch's boss, Kanade Kamiya, arrives to take San, but San's employer recognizes him as the one who killed her husband. The News Club tries to fight Kamiya but are held back by his siren song. As Gin and Haji raid the 7th Branch Office, San reveals that she is a siren too, and counters Kamiya's song with her own.
Community content is available under
CC-BY-SA
unless otherwise noted.