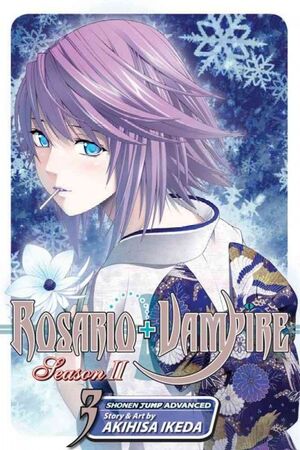 II Manga Volume 03: Snow Oracle
Character Cover: Shirayuki Mizore in a Yukata
J - Volume 03 - ISBN 978-4-08-874637-1, Release date: 4 February 2009
E - Volume 03 - ISBN 978-1-4215-3268-4 , Release date: 7 December 2010
Koko follows the trail of a mysterious prankster monster that has been terrorizing the girls on campus. She suspects Ginei Morioka the werewolf but Gin reveals the true culprit. Mizore takes the gang to her Snow Fairy world where she is to participate in a coming-of-age ceremony. She isolates Tsukune and tells him that she wants to be with him, but is carried away by the Snow Oracle where she is arranged to be married to Miyabi Fujisaki, who could care less about her feelings and wants. Tsukune and the other girls try to rescue her with Mizore's mother's help.
Community content is available under
CC-BY-SA
unless otherwise noted.